The Cambridge Sixes is now the largest one day bridge event in NZ . There were 42 teams of six (252 players) and the new venue was awesome. It was held at the Don Rowlands Centre in Karapiro. This is a new events centre close to the NZ rowing high performance centre. It was rather special to be greeted by a big electronic notice board identifying the Cambridge 6s and which gate to drive into.
The Cambridge club has to be congratulated for the amazing effort they put into organising this event. We know how much work goes on behind the scenes. From Michael Neels who had a dream and created this event, Jan Spaans who makes the scoring look so easy and the Cambridge members who all pitch in to set up tables, arrange food (loved the cup cakes), the raffles, prized (in beautifully hand folded envelopes), decorations etc.
Just shows you what a small innovative club can do !
5th overall
"Peter Pan and friends"
Norm Silcock & Kate Terry, June Hagan & Peter Hagan, Melanie Rex & Stacey Hilton
Stacey and Melanie were 2nd in the Junior section
2nd in the Trivia section
"The Cats in Hats"
Kay Wright & Lois Taylor, Lorraine Murrie & Jocelyn Buchanan, Tina Kennedy & Barbara Stimson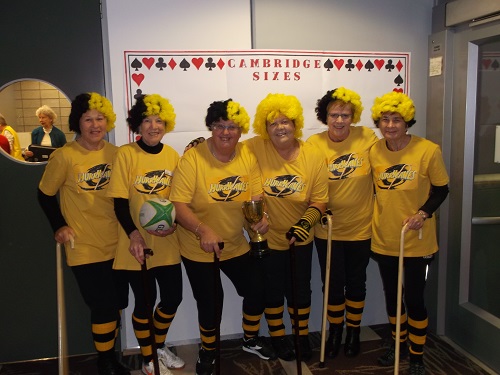 "The Hurry Canes"
Still recovering from the winning the big rugby event, so did not excel at bridge !
Julie Sheridan & Karen Martelletti, Chris Andrews & Megan Wackrow, Robyn Knight & Elaine Kingsford
"6 No Trumps"
Had too many "Donalds" to compete with on the day. A popular man (not !)
Amanda Smith & Stephen Francks, Andrea Andresen & Joy Bates, Diane Blumsom & Helen Moffatt
This great venue and organisation means it will be popular next year on the 12 August 2017. Click here to enter now !
+