Listen in to the bridge radio show sponsored by NZB. A half-hour weekly slot "The Bridge Zone" had its first broadcast on the 27th June 2018 and still going well.
This programme is hosted and produced by Free FM. The announcers are: Gold Grand Master, Barry Jones and Mereana Cullen of Hamilton.
The covers many topics and the team welcome suggestions or feedback.
If you click on this link, this will take you to the lastest podcast, or you can click here to view a list of all podcasts in case you missed a show.
Special episodes to listen to are:
25 May 2022 mentions Graham Young and Stacy Hilton's win at Te Puke on Saturday 21 May
27th January 2021 with an interview with Kate Terry regarding our Mini Congress
2020 New Year's day podcast featuring President, Kate Terry
15th January 2020 featuring our very own Choir "The Extremes"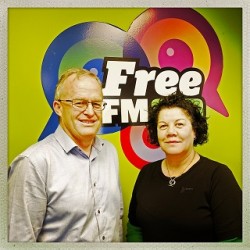 Barry & Mereana
Click here to email the Bridge Zone for requests, feedback or questions.